X-Treme Tape ® Self-Fusing Silicone Rubber Tape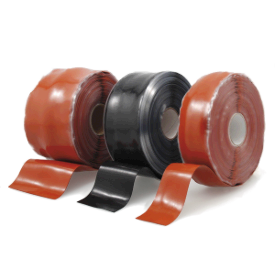 X‑Treme Tape
is the
Original
self-fusing silicone insulating & repair wrap.
Originally developed for U.S. Military applications,
X‑Treme Tape
has been tested and proven in the most extreme conditions and environments. It is the most versatile and easy-to-use quik-fix emergency rescue repair tape available.
X‑Treme Tape
withstands extremes in temperature, pressure, voltage, moisture, corrosion and contaminants.
Tests show the bonding strength of
X‑Treme Tape
greatly exceed the Mil-Spec standard and that of competing brands of tape.
X-Treme Tape:
Is Self-Fusing...No Adhesive
Withstands Over 500°F(260°C) of Heat.
Remains Flexible to -80°F(-62°C)
Has an Amazing 700 PSI Tensile Strength
Insulates to 8,000 Volts per Layer
Stretches 300%
X‑Treme Tape is Versatile!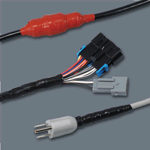 Use X-Treme Tape to insulate electrical connections and make them air and water tight. Makes heat shrink tubing virtually obsolete!
X‑Treme Tape
will seal and repair plumbing, vents, ducts, and hoses. It can even choke-off a vehicle's leaking radiator hose!
X‑Treme Tape
is great for sports grips and tool handles, wire harnesses, cable wraps, boat & RV hook-ups and so much more.
X-Treme Tape is available in 25.4mm (1") and 38mm (1-1/2") widths, 3m (10-ft) and 11m (36-ft) length rolls.
Many colours and sizes are stocked and ready for immediate shipment. Special order colours, thickness and lengths available.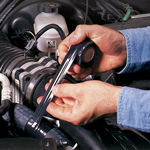 Keep a roll in your car, on your boat, in your camper, with your motorbike and in your tool box.
The X‑Treme Tape Advantage
High Tensile Strength
High Dielectric Strength
Advanced Bonding Properties
MOCAP is the exclusive owner and manufacturer of X‑Treme Tape products, so you won't have to order through a re-seller or distributor.
X‑Treme Tape's strength comes from both its thickness and the advanced bonding characteristics of the
special silicone formula
. X‑Treme Tape has about 15% more material/thickness than rival brands making it the most reliable product available!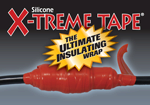 X-Treme Tape
Creates an Air-Tight, Water-Tight Seal in seconds!
Never gets gooey or sticky like old-fashioned electrical tape or duct tape - No messy cleanup!
Has an incredibly long shelf life!
Resists Acids, Fuels, Oils, Solvents, Salt Water, UV Rays